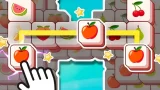 Tile Match: Connect 3 Tiles
You have to tap and match all the tiles to clear the playing field before the timer expires. It can help you focus and hone your skills to think and react quickly. Go to the unearthly world and become a master of the match 3 game genre!
Enjoy this mahjong tile matching game and enjoy moments of peace during the day to calm your mind and recharge your brain. Sharpen your mind with a series of tile matching levels that gradually increase the difficulty of the puzzle.
Relax and enjoy the beautiful scenery backgrounds and use your creativity to decorate your own zen room to relax!
Let matching tiles become your new hobby for a relaxed creative mind. Come back to it every day, as there are always new daily mahjong puzzles that allow you to take care of your own houseplant and become a mahjong master!