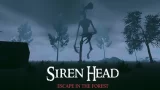 Siren Head Escape in the Forest
You get into an accident. You wake up in the forest, from which you need to find a way out! On the way to this, you will be hindered by the siren head! Survive and collect parts for the car and fix it to escape from the siren-headed horror story!
• SCARY MONSTER – LILAC-HEADED A huge and tall monster is waiting for you in the horror story! His 3D model and head are made very qualitatively and frighteningly. Be careful, the monster can scare you a lot!
• UNEXPECTED PLOT This is a game about the survival of a man in the forest who is trying to destroy the siren-headed one: help him survive and defeat the monster!
• HARDCORE FINAL BATTLE At the end of your passage of the horror game, you will find out if you were able to defeat the monster lilac-headed and save your family. Be ready for a challenging battle and a horror story!